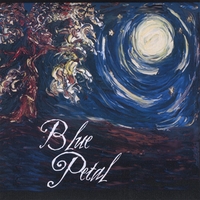 I know I write a lot about another Dallas based band Edie Brickell and The New Bohemians, but in this crazy world of MySpace, you really can discover a jem amongst all the musicians out here.
I first heard Blue Petal because Carter Albrecht posted one of their songs on his MySpace page. Although Carter is gone, he certainly passed along to me a taste of Blue Petal having it as his song. From there I was hooked.

With only three members of the band, Manya Repnikova vocals, guitar - Pete Anderson ketyboard, guitar - Bryan Butler guitar, harmonica they really put together a fantastic sound.
Having put out a 5 song EP so far, I really look forward to hearing more of their music. The Indie realease starts off with an incredible song only lasting 2 minutes, but Move Along is really my favorite. It captures the amazing voice of Manya Repnikova, not only a beautiful person, but a beautiful voice as well.

Turn It Around is the second song on the cd. A nice soulful song with a good acoustic sounds and some great backing vocals, it truly is a wonderful song. Heading into Night Train, we hear the nice folk sound with a slide guitar in the background. It's a great piece of work.
Next up we have Blue Balloon Girl on the cd. Sort of an Alt-Country feeling with the harmonica playing in the background. It's a good song, not sure who plays drums on this one, but it really adds a good touvh to this one.

Host
is the last song on the cd and the piano is a nice intro to a great tune. Manya's voice remids me a bit of a mix between The Sundays, Harriet Wheeler and Mazzy Star's, Hope Sandoval. Both have a different style and Manya sort of sits right between the two.
You can sample the cd at either of these two myspace pages
Blue Petal's Myspace Page
or
Manya's MySpace Page
. Manya's page also has a great song Good and Faithful Servant which will be appearing on a compilation cd some time this year. I just love it and wish I had a copy on my iPod today.
Check them out for sure. I see them hitting it big in the coming years. There's a lot of talent in Manya and the band.
Go out to iTunes or their MySpace page and pick this one up for sure.